"You have been told,
and what the LORD requires of you:
Only to do justice and to love goodness, and to walk humbly with your God."
Micah 6:8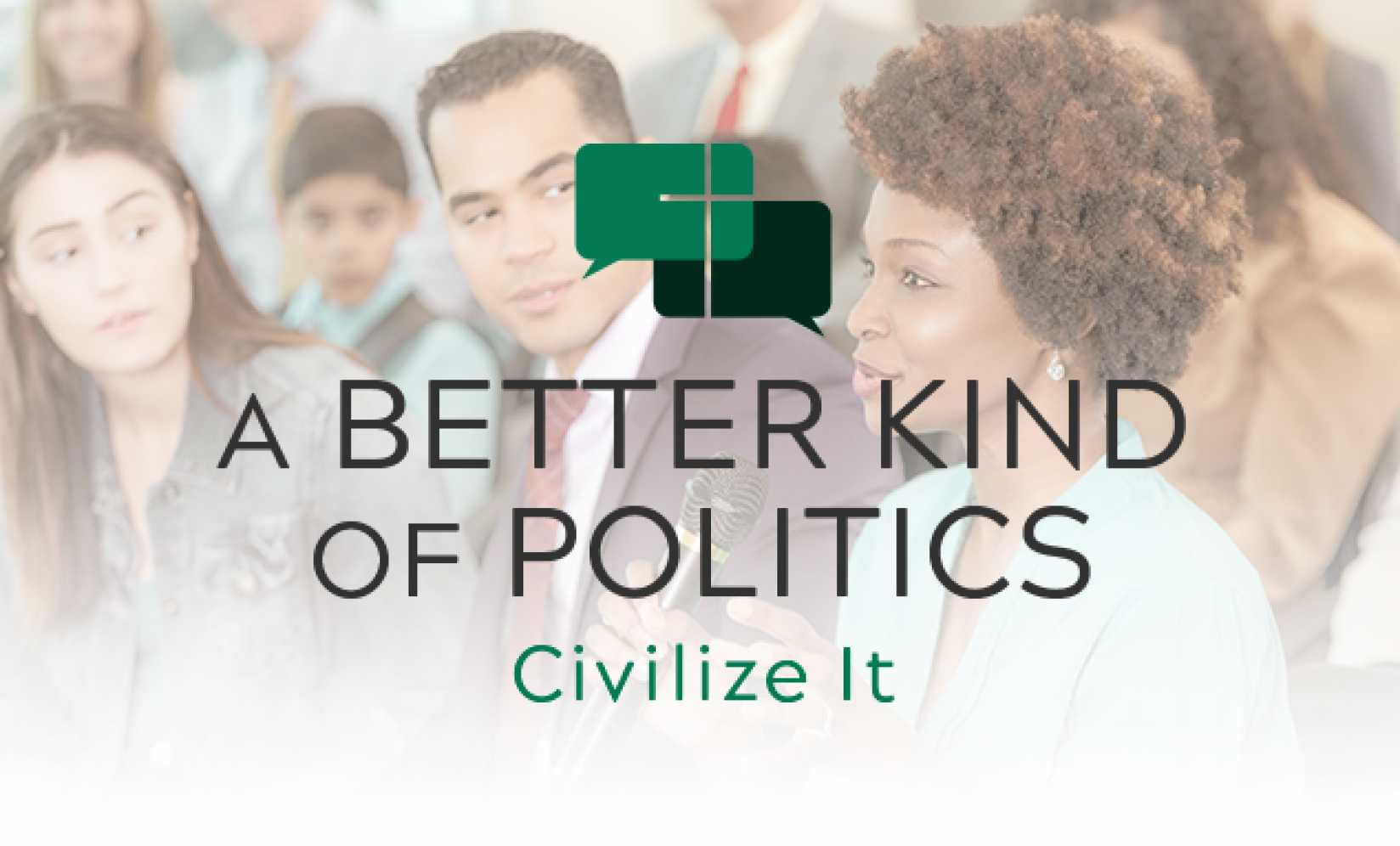 A polarized Church. A divided nation. Pope Francis calls for "a better kind of politics." How will you respond?
As Catholics, we take to heart Jesus' invitation to follow the example of the Good Samaritan, who challenges us to "become neighbors to all" (no. 80). As a Church and a nation, we are polarized and divided. But as Pope Francis writes in Fratelli Tutti, we can seek "a better kind of politics, one truly at the service of the common good" (no. 154). We can see ourselves as members of one family. We can seek to encounter and to grow. We can identify common values. We can listen to understand. We can seek the truth together. We can jointly come up with creative solutions to the problems that face our world.
Civilize It: A Better Kind Of Politics is a response to Pope Francis' invitation. Join us to model this "better kind of politics." Take the pledge below to commit to seeking the truth, building bridges, and finding solutions together that promote the common good. Individuals, families, and communities can participate.
Taking the pledge is just the first step. Additional materials can help us as we reimagine our way of being in the world. Begin today by loving God through encounter with a neighbor as a  sister or brother.
I PLEDGE:
Charity
To affirm through my words and actions the dignity of every person, each made in God's image. Even those with whom I disagree are made in his image.

To respectfully listen in order to understand experiences different from my own.
Clarity
To engage in critical examination to ensure that my perspectives are rooted in truth, that my sources of information are unbiased, and that I do not open myself to manipulation by partisan interests.

To form my conscience through prayerful reflection, study of scripture and Church teaching, and guidance from reputable experts.

To reflect on my own values and seek, with others, to identify shared values.

To be open to the process of dialogue that can require change of perspective—my own and others'—in service to the inviolable dignity of all and the common good.

Creativity

To be a bridgebuilder who participates in constructive dialogue based in shared values, a mutual exchange of gifts, and the humility to together seek the good.

To see differences in perspective as opportunities for creative tension which can yield solutions for the common good.

To work with others in order to identify creative solutions rooted in our shared values.
Find this pledge and other resources and prayers at https://www.usccb.org/civilizeit
It is important to share conversations in a meaningful way with CIVILITY, COMPASSION AND CLARITY
Civil dialogue can best be defined as the ability to enter meaningful conversation with people whose viewpoints may be different from our own, who have a different background or experiences, or who come to
a different conclusion about the best way to promote the common good. We enter into civil dialogue because we want to build a community that is rooted in understanding one another. God's love for each person requires us to remember that someone who disagrees with us is still a beloved child of God. 
Tips for Engaging in Civil Dialogue:
Listen first and seek to understand the whole picture.
 Ask questions for clarification.
Use 'I' statements; pay attention to body language.
Listen to what feelings are present and pay attention to how you respond.
Summarize what you've heard and ask for feedback. 
The United States Conference of Catholic Bishops' (USCCB's) mission
is to encounter the mercy of Christ and to accompany His people with joy.
God who deserves our love, respect, and care. 
LISTEN TO BISHOP FRANK DEWANE & BISHOP MARIO E DORSENVILLE
ROUNDTABLE DISCUSSION on CIVILIZE IT
Beginning in Lent: Monday evenings 6:30pm - 8:00pm
To Register - Contact: [email protected]
QUESTIONS: Call Joanne @ 239-600-6747
Faith & Poverty
A Biblical Response
Grounded in Catholic social teaching, Faith and Poverty: A Biblical Response 
guides participants in exploring the Gospel's call to respond to poverty in our 
communities, nation and world, and equips participants with practical tools to 
take action in effective and sustainable ways.
Session 1: Holy Conversation vs. Debate
Introduces practical tools for engaging in conversations around difficult topics, equipping 
participants to transform heated discussions into expressions of worship.
Session 2: Compassion vs. Tolerance
 Participants discern how a biblical understanding of Kingdom could transform their 
priorities and decisions.
One Day Retreat
This six-hour retreat builds community and trust, creating space for introspection 
and spiritual reflection.
Session 3: Awe vs. Judgment
Challenges participants to look beyond their assumptions in order to encounter God's 
image within all people.
Session 4: Abundance vs. Scarcity
 Explores how a scarcity mindset prevents us from giving and loving generously, and 
how a mindset of abundance can cultivate joy in our spiritual lives and community. 
Session 5: Equity vs. Equality
After hearing from a guest speaker from the local community, the group considers the 
relationship between privilege and justice.
Session 6: Ministry To vs. Ministry With Working For versus Working With —
The group discerns how to engage in ministry 
and service that involves reciprocity and mutual respect.
- Immersion Experience In Local Community -

Session 7: Reading Scripture with the Poor
Explores how solidarity with the poor draws us closer to Jesus himself.
Session 8: Action vs. Apathy
Participants discern how they are called to action. 
Resurrection Mission Statement
Convinced that Jesus communicates a new life to those who believe in Him, and that He was raised from the dead in order that we might live, we are united to the risen Lord as a people born anew to a life of hope. Called together as a people of faith, we believe that the Father who raised Jesus from the dead will also raise us, and that we will continue to bear witness to the fact that we are liberated from sin. As a Resurrection people we are committed to victory over sin through charity, loving God above all else, each other and ourselves.